Donation from Comweb Foundation provides boost to POV's mission to champion diversity in media production
TORONTO, November 23, 2020 – POV is proud to announce a five-year agreement with Comweb Foundation. This agreement will see the donation of a quarter-million dollars directed towards POV's mission to provide BIPOC (Black, Indigenous, People of Color) and diverse creatives with the access needed for meaningful  and successful careers in media production through technical training, career development, mentorship, paid jobs & internships.
The commitment by  Comweb Foundation comes on the heels of the creation of a new bursary in association with The Toronto Film School,  Bell Media, RedLabTO, William F. White Int'l Inc, and Project 10, which gives  BIPOC creatives access to yearly scholarships followed by paid internships at partner production companies.The scholarships were awarded to three exemplary POV alumni at an event that took place on Tuesday, Oct 20th.
In an industry that continues to support the privilege of a few, these partnerships are examples of leaders, institutions and stakeholders who are leading the charge in bringing about changes by not just talking about it, but by putting their resources and efforts towards making those changes happen.
"We are deeply committed to building a diverse and skilled media production workforce," says Comweb founder and CEO, Paul Bronfman. "With our multi-year commitment to support POV, we will help establish strong economic access and professional success for underrepresented young creatives across Canada."
The generous donation from Comweb Foundation supports POV's belief that a more diverse and inclusive media production industry is a more creative, competitive and thriving industry.
"At POV, we see our work playing a critical role in supporting diverse creatives in reclaiming their narratives and producing content that is accurate, fair and authentic to their experiences." says POV Executive Director, Biju Pappachan. "This donation will help POV to champion diverse, BIPOC talent while transforming their lives and changing the face of content production across Canada"
About POV
POV is a charity that ignites and spotlights rising talent from diverse communities. POV is committed to developing the next generation of diverse creative talent from equity-seeking communities and celebrating their stories. POV provides technical training and develops social skills that enable young creatives  to launch their careers into the content production industry.  To learn more, visit us online at  https://povfilm.org/ or through our socials on IG/FB @POVfilm
About Comweb
Comweb Corporation (www.comwebgroup.com) was founded by Paul Bronfman in 1988. The company's first foray was a partnership with famed writer/producer Stephen J. Cannell in 1988 to build and manage Canada's first Hollywood-style studio complex, North Shore Studios in Vancouver. The studio was the home of the original smash TV series hit, The X-Files. Comweb Corporation is a founding shareholder of Pinewood Toronto Studios (www.pinewoodtorontostudios.com), a 12-stage production lot with over 200,000 square feet of space. Comweb Group Members include Comweb Aviation, Comweb Foundation, Comweb Hungary, Comweb Real Estate, and Comweb Studio Holdings. Comweb Corporation was the parent company of William F. White International Inc. (WFW) for over 30+ years. WFW was recently sold to Ashtead Group/Sunbelt Rentals of Canada Inc.
COMWEB CORPORATION ANNOUNCES SALE OF WILLIAM F WHITE INTERNATIONAL INC.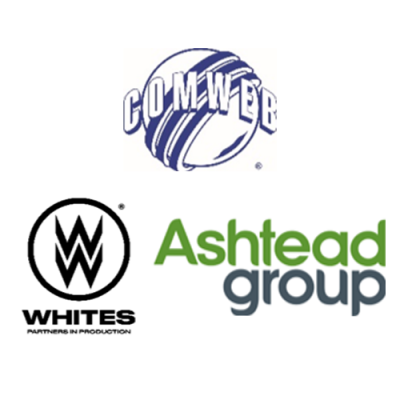 December, 2019
Paul Bronfman is pleased to announce the sale of William F White International (WFW) to Ashtead Group through an affiliate of its wholly owned subsidiary Sunbelt Rentals of Canada, Inc. (Sunbelt). WFW is Canada's oldest and largest rental provider of production equipment, services and studio facilities to the motion picture, television, and digital media industries. Whites operates out of 13 locations across Canada and has over 450 employees.
The company was established in 1963. This sale of the wholly owned subsidiary of Comweb Corp., based in Toronto, to Sunbelt will further support and accelerate incredible growth over the years. This growth is being fueled by the growing demand for media content worldwide driven largely by the thriving streaming services including Netflix, Amazon Prime, Crave, Disney+ and Apple TV+.
WFW's Chairman/CEO Paul Bronfman, commented: "This transaction with Sunbelt is a watershed moment for me personally and the company. As Canada's production industry undergoes exponential growth, WFW faces the most exciting opportunity in the company's history over the next few years. I felt it was time for William F. White Int'l Inc. to align itself with a firm that has the resources, scale and culture to create growth opportunities for our employees. This enables the business to better serve our customers' ever-expanding needs, allowing Sunbelt to take WFW to the next level. This deal is in the best interest of the company and my employees." says Bronfman.
Ashtead's CEO Brendan Horgan, commented: "William F. White Int'l Inc significantly enhances our capability to provide equipment to the film and television production market where increased demand for content is driving high growth opportunities. The acquisition will provide significant opportunities to cross sell our existing product range in Canada and develop our offering to this end market in the US. This acquisition is consistent with our long-term strategy to take advantage of structural growth opportunities through both organic investment and bolt-on acquisitions. I would like to welcome all WFW employees who have built this business into the iconic brand it is today to the overall Sunbelt team. We look forward to working with them to deliver on the major opportunities ahead."
The acquisition of WFW officially closed on December 2, 2019. Paul Bronfman will continue in his role as CEO through April 2020 to aid in the transition. Effective immediately he becomes Co-Chairman of the WFW operating division executive board along with Ashtead Group CEO Brendan Horgan focusing on strategic growth of this exciting new platform.
Paul Bronfman further commented: "We are proud of the company our entire team has built over almost 60 years, and grateful for the customers who have consistently entrusted us to meet their needs. As the industry changes, what won't change is our valued clients remaining at the forefront of all we do at WFW. They should expect to receive the same great products and services, the same level of customer care and satisfaction and the same options and innovation as they always have; we promise and will over deliver!" Bronfman says.
Lazard Middle Market LLC served as exclusive financial advisor to William F. White International Inc. and Dentons Canada LLP served as the Company's legal advisor.
Historical Comweb News and Articles
WILLIAM F. WHITE SETTLES LAWSUITS AGAINST FORMER EXECS
playbackonline.ca – (August 6, 2014)
BIG IDEAS FROM THE CITY'S BUSINESS LEADERS
thestar.com – (July 25, 2014)
INDUSTRY ATTENDS LIBERAL FUNDRAISER AT WILLIAM F. WHITE
playbackonline.ca – (May 7, 2014)
WFW INTL TO EXCLUSIVELY REPRESENT FLYCAM CANADA AERIAL TECHOLOGY
playbackonline.ca – (June 7, 2013)
COMWEB AND WFW COMPLETE $40 MILLION REFINANCING DEAL
playbackonline.ca – (May 2, 2013)
CANADA'S HOLLYWOOD PRODUCTION BOOM ATTRACTS NEW EQUIPMENT INVESTMENT
hollywoodreporter.com – (March 21, 2013)
PINEWOOD TORONTO STUDIOS EXPANDS TO WOO MORE HOLLYWOOD TENTPOLE SHOOTS
hollywoodreporter.com – (September 27, 2012)
LEADING MAN, BEHIND THE SCENES
theglobeandmail.com – (September 6th, 2012)
WILLIAM F. WHITE INT'L BECOMES EXCLUSIVE EQUIPMENT SPONSOR OF NSI DRAMA PRIZE
TO411 – (June 19, 2012)
FEARS MOUNTING OVER B.C FILM PRODUCTION
The Globe and Mail – (June 5, 2012)
2012 SPIRIT OF HOPE GALA FUNDRAISER
Marketwire – (May 29, 2012)
AMPIA (ALBERTA MEDIA PRODUCTION INDUSTRIES ASSOCIATION) ANNOUNCES 2012 ROSIE AWARD WINNERS
MediaMag Blog (May 14, 2012)
ROSIE AWARDS NOMINATIONS ANNOUNCED
AMPIA (April 11, 2012)
PAUL BRONFMAN: BCE'S $3.38 BILLION ASTRAL MEDIA TAKEOVER IS 'BITTERSWEET'
The Hollywood Reporter- (March 16, 2012)
ECONOMIC DEVELOPMENT COMMITTEE TO SPOTLIGHT TORONTO FILM INDUSTRY
Toronto.ca (November 14, 2011)
WILLIAM F. WHITE NAMES PAUL ROSCORLA TO TOP JOB
Playback Online- (October 31, 2011)
TORONTO SET TO CHALLENGE VANCOUVER'S HOLLYWOOD NORTH CROWN WITH 'TOTAL RECALL'
Yahoo News- (September 22, 2011)
GEMINI AWARD ORGANIZERS TAP SPECIAL HONOUREES
CBC (August 10, 2011)
INDUSTRY VETS TO RECEIVE GEMINI BLING
Playback Online- (August 10, 2011)
BRONFMAN TO ONTARIO GOV: 'YOU GUYS SAVED OUR PROVERBIAL BUTTS'
Playback Online- (June 24, 2011)